Jalapeno Cheddar Bagles
Bagels are one of our favorite morning treats. Typically we eat fruits and/or cereal, but every once and a while I spoil myself and grab a bagel. There is nothing better than a warm, just out of the toaster, bagel spread with some cream cheese! So imagine my surprise when I went to reach for the last one out of the fridge to find that it had disappeared!? Apparently my four year old had a midnight craving and decided to help himself to the "bread." But I wasn't going to let the fact that they were GONE cause me to panic! I grabbed some Rhodes Rolls and got to work!
4-6 Texas size Rhodes Rolls 1 T. baking soda 1/4 C. sliced jalapenos 1/2 C. sharp cheddar cheese, shredded Let your rolls thaw until pliable. Slightly flatten and use your fingers to create a small hole in the center. Stretch it out to form the basic shape of your bagel. Let the dough rest for 45 minutes covered in plastic wrap. Preheat your oven to 375 degrees and bring a large pot of water and baking soda to a boil. Gently drop the bagels into the water and cook for 30 seconds on each side. Remove with a slotted spoon and place on a rack to dry. Line a cookie sheet with parchment paper. Evenly space out your bagels on the tray and top with the jalapenos and cheese. Bake for 15-20 minutes or until lightly browned.
I let my little guy wash up and help me create the holes in the dough. It was such a fun way to start our morning. He gobbled up two of these savory treats.
If you aren't big on spicy foods, simply leave out the jalapenos. You could even leave off the cheese and lightly brush with butter before going into the oven. Or even substitute parmesan in place of the cheddar. The possibilities are endless.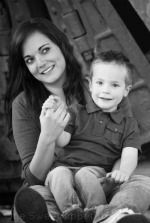 About
The official blog of Rhodes Bake-n-Serv, home of America's favorite frozen bread and rolls
Rhodes Bloggers
Guest Bloggers
Categories
Grab our badge or blinkie
Grab our badge or blinkie for your blog!
<a href="http://bit.ly/cLD5KB"><img src="http://www.rhodesbread.com/blog/uploads/RhodesBadge.gif"></a>
<a href="http://bit.ly/cLD5KB"><img src="http://bit.ly/hpbxmS"></a>